Rhodesian Ridgeback
Kennel «Magija»
WELCOME TO MAGIC.
We are glad to greet you on the pages of our site!
MAGIC means enchantment, charm and glamor. This is also the name of our dog, the kennel's favorite, and puppies born in our kennel are like her — bright, fairy, charming, fantastic.
My name is Natalja Visnap, I am the owner of the Rhodesian Ridgeback Kennel "Magic". For me and my family, the Rhodesian Ridgeback is not just a dog, it is a part and a way of our life! We live in a nature reserve, in a unique location, near the city of Vilnius. Unlimited open areas and beautiful pristine wilderness — it's an ideal place for living and breeding our dogs.
If you are fond of South African dogs with red-wheat shiny hair and a crest on their back, if you dream of becoming a happy owner of a Rhodesian Ridgeback, contact us. Kennel "Magic" is a place where dogs, which can become your best companions, athletes or dexterous hunters live and come into the world.
The Rhodesian Ridgeback Kennel "MAGIC" was registered in 2015 and has been conducting its breeding activities in accordance with the provisions of the LKD and FCI, in accordance with ethical breed standards adopted by most advanced breeders of the world.
We had our first dog, our little red-haired miracle Magic, in 2013. From her ancestors, she inherited a beautiful highbred head, a strong skeleton, a bright color and a strong constitution. Magic is a well-balanced, teachable and calm dog with excellent protective capabilities.
The kennel's main principle is complete and reliable information about the puppies' parents having the appropriate genetic tests for various diseases, so only absolutely healthy dogs take part in the breeding process.
We very carefully select pairs of breeders to provide maximum compliance with the breed standard. Therefore, all our puppies are from award-winning parents passed genetic health tests that are registered at the Lithuanian Kennel Club (LKD) and FCI.
We will help you to go all the way from choosing a puppy to its victories at various competitions and exhibitions, as well as to identify the best four-legged friend suitable for your family! Our adult Rhodesian Ridgebacks and puppies are raised only on professional high-quality feeds and vaccinated, while the puppies' parents have been tested for various genetic diseases. Puppies are surrounded with care and attention that directly affects their further socialization.
The Rhodesian Ridgeback is a breed worth of attention, care and love. It is a clever and beautiful dog, playful, strong and hardy; this dog has an amazing sense of dignity, like a real ruler of the world.
We picture the future owners of our puppies as responsible people ready to give a decent life to their dog throughout all his or her life. The Rhodesian Ridgeback — it is smart eyes, a devoted heart and "flying paws". The owning of a Rhodesian Ridgeback is what happiness is all about!
Your Truly, Natalja Visnap
Certificate No. FCI/59/15
News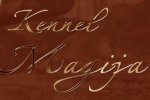 06.02.2020
Welcome to the new ridgeback website.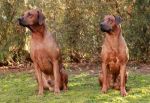 05.02.2020
We are waiting for the birth of puppies rhodesian ridgeback from MAANHAAR PRIMO-CREATUS FATEFUL BENJAMIN and Milisenta Princese Di Magija it is possible...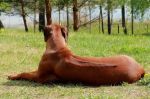 28.01.2020
Rhodesian Ridgeback. The Cynological Union of South Africa and the Zimbabwean Cynological Club adhere to this standard. A brief historical summary. Rhodesian...