Kennel «Magija»
Rhodesian Ridgeback Puppies
Date of Birth 2020-03-16
| | |
| --- | --- |
| D.O.B.: | 2020-03-16 |
| Breeder : | Natalja Visnap |
| Adress : | M.K.Čiurlionio g. 11-12. |
| Phone : | +370 698 32335 |
| Viber : | +370 698 32335 |
| Whatsapp : | +370 698 32335 |
| E-Mail : | natalja_visnap@list.ru |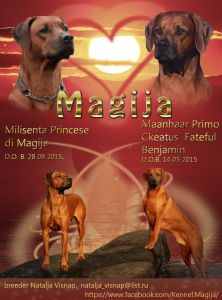 Pedigree of puppies
Maanhaar Primo-Creatus Fateful Benjamin

Champion of Czech Republic, Champion of Poland, Champion of Hungary Club, Champion of KCHRR, Junior Champion of Czech Republic, Junior Champion of Poland

BIS winner on CACIB show Prague 2016, BIS winner on CAC show Jelenia Gora, 2016 Winner of Prague 2016, Winner of Bratislava 2017, Club Winner SKCHR-2017

Haemophilia : Not Carrier, DM : Not Carrier, Hip Score - FCI Scheme : A, Hip Score - FCI Scheme : A

Eglangeni Braveheart Rules
Primo-Creatus Bahati Della Nila Fibi
Milisenta Princese Di Magija

LT JCH, LV JCH, EST JCH, Balt JCH, RUS JCH, RKF JCH, LT CH, LV CH, EST CHLT CH,, Junior Champion of Latvia, Junior Champion of Estonia, Junior Baltic Champion, Champion of Lithuania Champion of Latvia Champion of Estonia Baltic Champion Champion of R

African Bhanu Zulu Hillvalley'S

Magija Auksinis Feniksas

LT JCH, LV JCH, LT CH, LV CH, EST CH, Baltik CH, RUS CH, RKF CH

Genotip R/R, HD-A, ED-O, JME clear, Eyes clear.
Contact
Payment, delivery, etc.
We live in a large territory, a nature reserve. Our Rhodesian Ridgeback puppies are lovingly and professionally raised in the home on the super-premium class feeds.
Our dogs do not live in enclosures – they are part of our family and live with us in the same house, spending a lot of time outdoors.
Puppies that were born and grow in our kennel, from a very young age, are immersed in the atmosphere of domestic smells and sounds surrounded by our attention and communicate a lot with adult dogs, other animals and children. Our puppies are for responsible, serious, loving and caring owners, dreaming of a red four-legged happiness in their home. A little puppy in the house is a lot of joy!
Puppies from our kennel live in various countries: Latvia, Estonia. Norway, Sweden, Denmark, France, Germany, Great Britain, Hungary, Poland, Romania and the USA.
If you are interested in this wonderful breed or are willing to acquire a Rhodesian Ridgeback puppy, we will be happy to talk to you!
We deliver puppies to different cities and countries, doing it carefully and reliably.
You will learn the details of your puppy's reservation in face-to-face setting. Drop us a line, and we will answer all your questions.
Sincerely, Natalja Visnap.